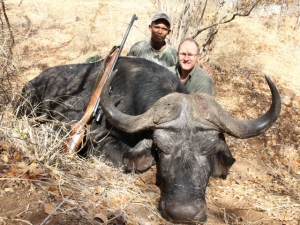 I am fortunate to have many years of hunting experience under my belt and a couple of years ago I started doing my own reloading after having been given a .375 H&H by my father. I now own a number of rifles including a Winchester M70 in .416 Rem Mag as it was always my dream to hunt Buffalo in Zimbabwe.
Earlier this year I came across the Peregrine Bullets at the Huntex 2012 show in Midrand, Johannesburg and got speak to Adriaan and Corno about their bullets. I decided to buy the Peregrine Solid Brass VRG 1 and Peregrine BushMaster VRG 3 bullets for the .416 Rem Mag. After having worked up a load I found their accuracy and consistency (and velocity) on the range to be far better than any of the other bullets that I had used in the past. In June I decided to test the .416 Rem Mag bullets on a Kudu bull (56 inch) that I shot in Musina area.
The Kudu was dropped in his tracks from a distance of about 30 yards which was a great way to start. Then, in July I was fortunate to have successfully hunted a buffalo bull near Gonorazheau, Zimbabwe, with a one shot kill using the .416 Rem Mag. The buffalo was shot broadside with a Peregrine BushMaster (VRG 3) Bullets 400 gr bullet at a distance of 40 yards and the bullet was placed on the left hand side shoulder of buffalo. Upon receiving the shot the buffalo turned to the right and ran about 20 yards where it died about 30 seconds later, but not before we were charged by the other dagga boy that was also in the area. Fortunately we were not required to fire a shot at the second buffalo. Upon walking up to the dead buffalo I decided to give it an insurance shot into the front of the chest where it lay with a Peregrine Solid Brass VRG 1 Bullet 400 gr, but it was not really necessary. Neither of the bullets exited the buffalo.
To my dismay the skinners did not manage to recover the bullets, although I was impressed with the way it had dispatched with the buffalo bull. Subsequently I have made the decision to use Peregrine Bullets for all my premium hunting ammo requirements and will be developing loads for the .375 H&H, .3006 as well as the .303. In addition I have always found the team at Peregrine Bullets to be extremely helpful with load development assistance and other queries.