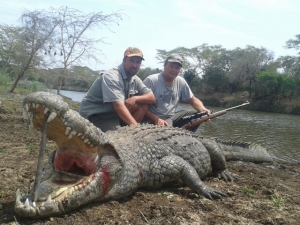 In October 2013 the Canadian hunter Tim Mckeen joined our Aloe Africa Hunting Safari as we were looking for a Nile Crocodile in rivers close to Hluhluwe in Kwazulu Natal, South Africa. Tim used my 375 H&H loaded with Peregrine 300gr VRG-3 BushMaster bullets at about 2600fps.
It was day one when we spotted the tracks of a huge croc on one of the river banks. After a few cold days the croc came out on the same bank to bake in the sun. He was very clever and we could not risk getting out of the cover we had about 85 yards from him.
The croc was slightly quartering forward and I let Tim aim for the corner of the mouth to try and hit the spine in the neck. It was a perfect shot, the bullet entered the huge scull, cracked it to the top of the head, broke the spine about 3 cm from the brain and stopped after hitting a lot off hard bone on the other side of the spine. Brilliant!
The Croc was 14.7 feet long. After a lot of photos the carcass was dissected and we found the 300gr bullet about a 3 feet into the body, next to the spine. The bullet showed no sign of weight loss and it mushroomed about 2,5 times its diameter. After weighing the bullet body it became evident that it retained 100% of its original bullet weight.